2017 Callaway Family Association Annual Meeting Preview
Our meeting in 2017 will be held in Salt Lake City, Utah at the Salt Lake City Plaza Hotel on October 5th – 8th. Here is some information and we hope you all can attend.
Thursday – Welcome Dinner followed by Tabernacle Choir Rehearsal across street
Friday – Tour of Park City, Utah and returning to attend the hotel Family Research Class prior to a tour of the Family History Library
Saturday – Family History Library assisted Research followed by the Annual Business Meeting and CFA History. Saturday night our 42th Annual Banquet will be held.
Sunday we will have the Devotional Service and then all depart for home.
Please mark your calendars and hope you can attend. The CFA has secured a rate of $89.00/night + tax for a regular room at the Salt Lake City Plaza Hotel.
2016 Callaway Family Association Annual Meeting Review
Wanted to give you a report on how the 2016 meeting went in Roanoke, Virginia.
On Thursday we had our welcome dinner so that all the members could welcome each other back and the new members.
On Friday we went on a tour of the Callaway-Steptoe Cemetery, followed by a tour of the Bedford Museum and D-Day Memorial.
On Saturday morning the Annual Business Meeting was help, followed by a tour of three Callaway homes – the Dr. Amos home, the Callaway House and the Russ Callaway Home. We enjoyed a traditional pig pickin for lunch.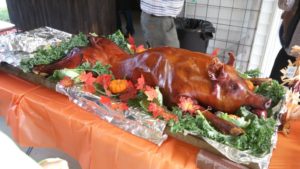 Saturday night we had our annual Dinner and were entertained by a local country band.
Sunday we had a devotional and all departed for safe travels back home.
As always, we closed the meeting on Sunday with a wonderful opportunity to have Bro. Harold Cantley share the devotional.